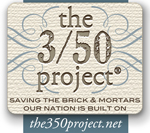 Hi neighbors -
Are you ready for the upcoming Thanksgiving festivities? I can't wait to get some good eats and fun times in with the family. I can already smell the pumpkin pie wafting through the air. But another thing I enjoy about Thanksgiving are all the great sales - Black Friday, Cyber Monday and most importantly Small Business Saturday.
A great promotion for Small Business Saturday is the 3/50 Project. We're all about supporting our local business community here at IEShineOn.com and this promotion is right up our alley. It's popular tagline is "Pick 3. Spend 50. Save your local economy," which encourages locals to pick three independently owned businesses and spend $50 each month because for every $100 spent locally $68 returns to the community through taxes, payroll and other expenditures. This type of effort empowers our local community especially during these rough economic times. The website provides more information and resources to help encourage local spending. If you haven't checked it out before I highly recommend it and share with your neighbor.
www.the350project.net
I'll definitely be participating in Small Business Saturday in our local community so expect some
FB
updates and
tweets
. How about you? Will you be hitting the local independent stores for your holiday shopping? You can check the 3/50 Project site to see if your favorite local store is listed. Happy shopping!
Till next time, have a fun and safe Thanksgiving holiday!